21shares publishes its latest
State of Crypto Issue 8
This report provides an in-depth overview of the state of the cryptoasset industry over the last year - offering our view on the industry as we identified the most critical developments emerging across different verticals. Welcome to Market Outlook for 2023.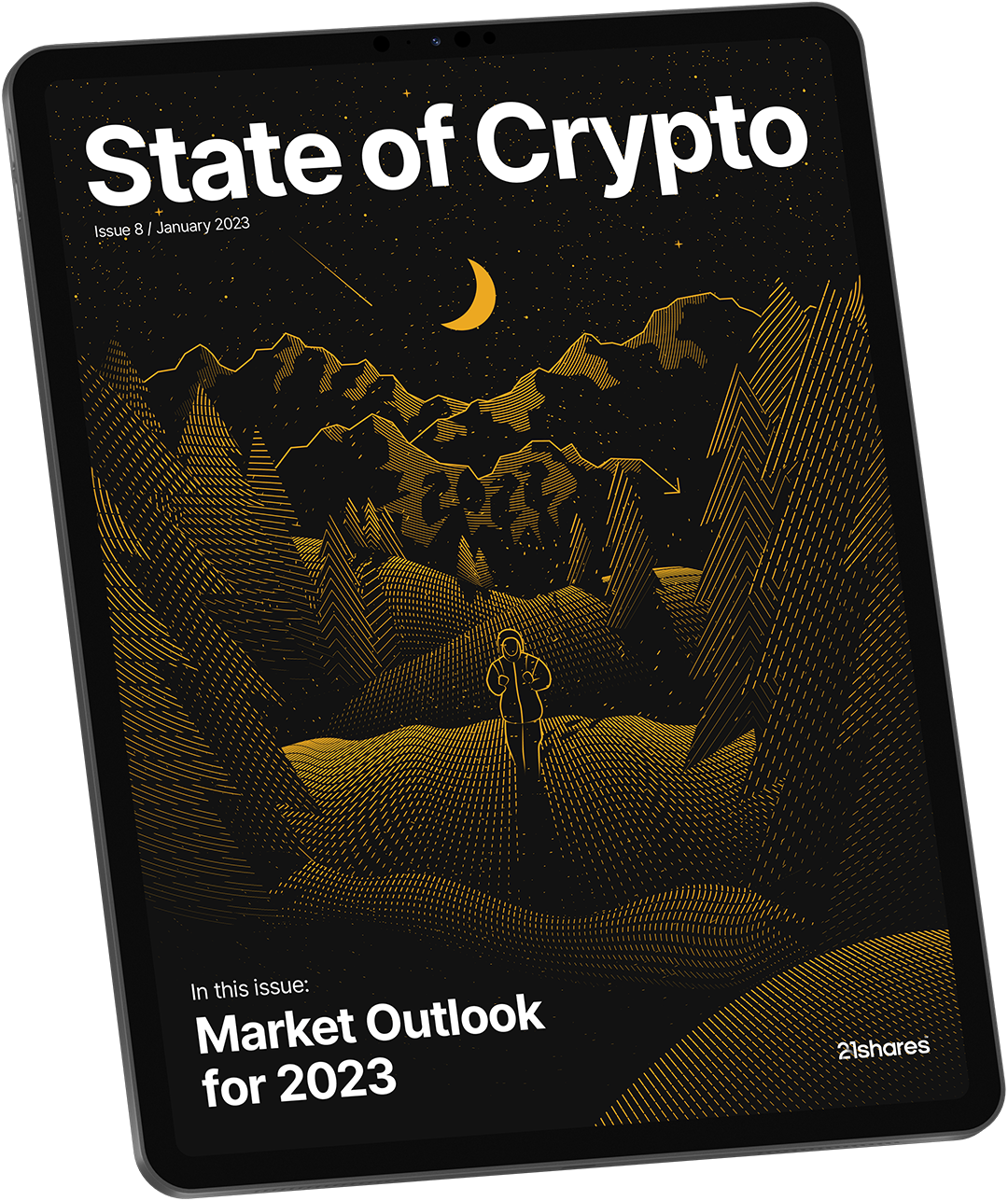 Macro
We've seen adverse macroeconomic conditions in the past year, starting with the war in Ukraine and the inflationary pressures proceeding in the aftermath. Bitcoin miners remain in a dire financial position due to soaring energy prices. In this section, we'll delve deeper into our thesis for the year upon us and how we expect 2022's adverse macroeconomic factors can impact the market in 2023.
Regulation
In 2022, policymakers were busy discussing how to regulate stablecoins, especially on the back of the depegging of Terra Luna's algorithmic stablecoin UST and its ultimate collapse. Sanctions were also a hot topic in 2022, especially when it came to crypto and privacy protocols like Tornado Cash, which was banned in the US. We dissect the main conversations and regulations that happened over the past year, and we explain our predictions for 2023.
Infrastructure Layer
Arguably the most significant infrastructure development of 2022 was Ethereum's "Merge" to a proof of stake consensus mechanism. After the Merge, the network's energy consumption has decreased by 99.95%, and ETH's net issuance has turned negative, demonstrating its prospects as a deflationary asset. In this section, we list down the most important developments and upcoming upgrades and what they could mean for 2023.
Application Layer
A deep dive into decentralized autonomous organizations (DAOs) and the governance that should be keeping them intact. Taking MakerDAO and SushiSwap as case studies, we share our observations and insight on how DAOs should benefit from near-instant global communications via the internet and also how DAOs should manage risks and treasuries as they enter the growth stage.
Decentralized Finance
It was a year plagued with bad actors and market manipulation. We analyze each significant event that happened in the realm of decentralized finance, especially in the lending subsector, and we provide our insights into how risk management can get better. We also laser focus on tokenizing real-world assets (RWA), how it developed in 2022 and how it will swirl in adoption in the future. We also track the adoption of stablecoins, dominating 14% of crypto's total market cap, and how decentralized protocols will continue experimenting despite the domination of their centralized counterparts.
NFTs
The trading volume of non-fungible tokens has experienced a 93% drop compared to its peak in January 2022. However, the number of NFT traders is higher than ever. In this section, we'll compare the performance of NFT marketplaces on each chain; Solana, for instance, surpassed Ethereum in the number of NFT sales in September by 39%. McKinsey and Citi predicted the Metaverse economy could reach between $5 and $13 trillion in market value by 2030. We provide our insights on how this sector is developing to become the next generation of social networks that complement the physical world by providing a better user experience.
Crypto made easy.
21shares takes innovation to the next level with the largest suite of cryptocurrency exchange-traded products (ETPs) in the world. In 2018 it pioneered the world's first cryptocurrency index listing on the SIX Swiss Exchange, and it continues powering its cryptocurrency franchise with cutting-edge research and groundbreaking approaches to product strategy. 21shares aims to provide all investors with an easy, secure, and regulated way to buy, sell, and short cryptocurrency through existing bank and brokerage accounts.